HTV / Tigre Brazil Subscription
Brand: Tigre
Product Code: SBS-BR
Availability: In Stock
Free Shipping
All Box orders will be shipped with an Express service for FREE!
No Customs Fees
In case of customs fees simply send us a picture of the invoice and we'll refund you the fees!
Authorised Reseller
The boxes require activation and you may need to purchase subscription. Only buy from authorised resellers!
Tigre, HTV1, HTV2, HTV3, HTV5, A1, A2, B7, IPTV5 Box Yearly subscription package for Brazilian viewers.
You will need this package when your box has run out of subscription and asks for a 16-digit code.
We will send you the code via email within 8h.If you need the code asap,Pls contact us via website online chat after you purchase,we send the code to you within 5mins.
Please note that subscription for the 1st year is already included in the box, if you purchased it with the option "Brazil Version".
To activate subscription we need the S/N code which is located on the back of your box.
Comes with 1 year technical service support.
Please note that we do not activate subscription packages for boxes located in USA!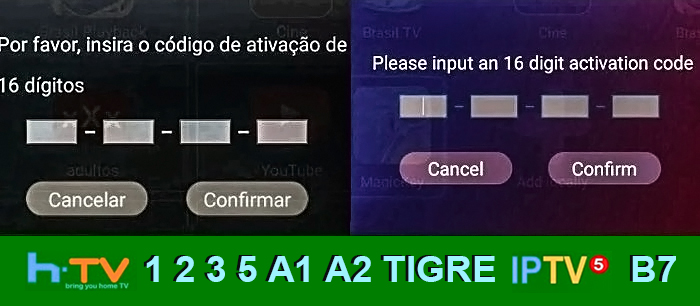 Tags: h.tv1, h.tv2, h.tv3, htv5, h.tv3 subscription, h.tv5 subscription, tigre, tigre subscription, htv subscription